January 27, 2006 | 09:29 PM
Repent America mourns at Independence Hall
In Philadelphia today, Repent America (RA) mourned over the American Holocaust by showing its reality. The presentation took place near the Liberty Bell at Independence Hall to memorialize 33 years of "legalized" abortion in America.
This week marked the 33rd anniversary of the Supreme Court's Roe v. Wade decision. Since 1973 over 45 million children have lost their lives at the hands of abortionists with the permission and funding of the United States government.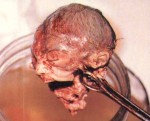 Looking out the large window of where the Liberty Bell is housed and throughout the Independence Hall area, thousands of visitors were able to clearly see the face of pro-choice America. It was here that RA held signs displaying the reality of abortion and called the American people to repentance for tolerating the killing of innocent children in our nation for so long.
The Word of God prominently displayed on the Liberty Bell declares: "Proclaim liberty throughout all the land, unto the inhabitants thereof." (Leviticus 25:10)
The holocaust continues because the church is silent.
"Open thy mouth for the dumb (voiceless) in the cause of all such as are appointed to destruction. Open thy mouth, judge righteously, and plead the cause of the poor and needy." (Proverbs 31:8-9)