FEDERAL COURT RULES AGAINST PHILADEPHIA ELEVEN 1/22/07
PHILADELPHIA – On Friday, January 19, 2007, United States District Court Judge Lawrence F. Stengel granted summary judgment to both the City of Philadelphia and Philly Pride Presents, Inc. in the federal lawsuit brought by the Philadelphia Eleven.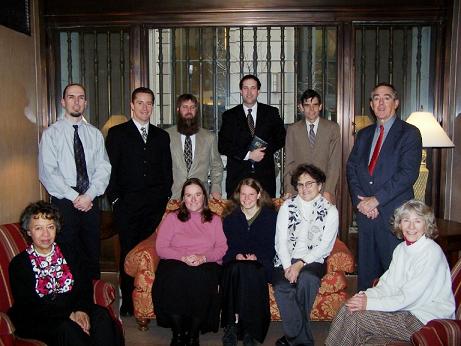 - PHILADELPHIA ELEVEN AFTER THEIR VINDICATION BY A PHILADELPHIA CRIMINAL COURT -
CASE OVERVIEW

On October 10, 2004, six men and five women with Repent America (RA), who became known as the Philadelphia Eleven, were arrested while ministering the Gospel on the public streets and sidewalks of Philadelphia at a $10,000 tax-payer funded celebration of homosexuality called "OutFest," which was organized by Philly Pride Presents, Inc.

Prior to their arrest, the Christians were confronted by a militant mob of homosexuals known as the "Pink Angels" who blew loud whistles and carried large pink signs in front of them to block their message and access to the event, while others screamed obscenities. The Philadelphia police, under the direction of Chief Inspector James Tiano, the City's "police liaison to the gay and lesbian community," refused to take any action as the Christians were continuously followed, obstructed, and harassed, even though they respectfully cooperated with police, obeying orders to move, short of being directed out of the event.

After spending 21 hours in jail, Philadelphia District Attorney Lynne Abraham's office charged them under Pennsylvania's hate crimes law called "Ethnic Intimidation," along with a host of other felony and misdemeanor charges. If convicted, the Philadelphia Eleven could have faced up to 47 years in prison and $90,000 in fines each. These charges were later dismissed by Philadelphia County Court of Common Pleas Judge Pamela Dembe as being without merit. Subsequently, on October 21, 2005, the Philadelphia Eleven filed a federal lawsuit against the City of Philadelphia and Philly Pride Presents, Inc. for violations of their civil rights.

In his decision, Judge Stengel sided with the defendants, explaining that police were permitted to discriminate against the plaintiffs because of safety concerns coupled by Philly Pride Presents' securement of a permit from the City to hold the $10,000 tax-payer funded celebration of homosexuality on the public streets, covering fifteen city blocks. Although Stengel conceded "the activity in question took place in a public forum," and that "there is no doubt that the venue for Outfest, a designated section of streets and sidewalks of Philadelphia, was a public place," he concluded that "once the City issued a permit to Philly Pride for OutFest, it was empowered to enforce the permit by excluding persons expressing contrary messages."

"Obviously, we are very disappointed. We believe that the law clearly supports the rights of the plaintiffs in this case, as well as all individuals, to be able to engage in free speech activities on the public streets and sidewalks," stated Ted Hoppe, attorney for the Philadelphia Eleven. "We do not believe that the fact that there was an event also taking place, even with a permit, diminishes that right," Hoppe concluded.

"I cannot even begin to comprehend what Judge Stengel's thought process was in making this decision," stated RA director Michael Marcavage upon hearing the decision. "This ruling was entirely unexpected considering that all the evidence has been overwhelmingly in our favor, complete with video documentation, not to mention the fact that all eleven of us were vindicated of any wrongdoing in criminal court," he continued.

"It is without question that Judge Stengel's decision has set a precedent to eliminate the First Amendment rights of others by citing that a 'permitting scheme' can be used by police and event organizers to 'exclude persons expressing contrary messages' in public areas and at public events. It is for this reason that his ruling is especially troubling and must be overturned," Marcavage stated. "Christians must be free to speak the truths of God's Word, warn the wicked, and to preach the Gospel in the public square without interference from government, and therefore, we will continue to battle for these God-given liberties by appealing this decision," Marcavage concluded.

"When I say unto the wicked, O wicked man, thou shalt surely die; if thou dost not speak to warn the wicked from his way, that wicked man shall die in his iniquity; but his blood will I require at thine hand. Nevertheless, if thou warn the wicked of his way to turn from it; if he do not turn from his way, he shall die in his iniquity; but thou hast delivered thy soul." (Ezekiel 33:8-9)



>> E-MAIL THIS PAGE TO A FRIEND NOW!