President-Elect Barack Obama to Inaugurate UnGodly Agenda
Repent America warns of incoming 'changes' 01/16/09
PHILADELPHIA – On January 20th, the inauguration of President-elect Barack Obama and Vice President-elect Joseph Biden will usher in a new political system of sentiments and policies that drift increasingly further from the Biblical beliefs and principles adhered to by our nation's Founding Fathers and away from God.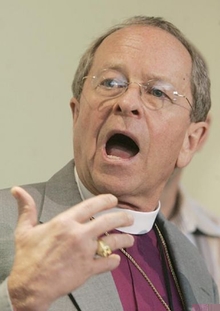 As a prelude of what is to come, the planned inaugural festivities, which begin on Sunday, will demonstrate the intended course of action of the incoming administration. Guised under the term of "diversity," on a number of occasions the Obama-Biden team will display their support for homosexuality, an agenda it plans to advance during its tenure. "We Are One," the theme of the opening ceremony to be held Sunday at the Lincoln Memorial, will open with the prayer of the openly-homosexual Episcopal "bishop" Gene Robinson, who will undoubtedly infuse his invocation with references to desiring tolerance and acceptance of the homosexual lifestyle. Sadly, this week, Rick Warren of California's Saddleback Church, who will deliver the invocation at Tuesday's official inauguration, released a statement applauding Obama's appointment of Robinson, all in the name of being "in search of common ground." This statement, in essence declaring that compromise with sin is laudable, is a severely misguided belief that is far from true Biblical teaching.

In addition to Robinson, retired Methodist "pastor" Dr. Joseph E. Lowery, an advocate of homosexual civil unions, will also participate in the official ceremony at the incoming administration's request. Dr. Lowery, who in 2000 signed the "United Methodists of Color for Full Inclusion in the Church" statement in support of homosexuals in the clergy, is scheduled to deliver the benediction nearing the close of the inauguration.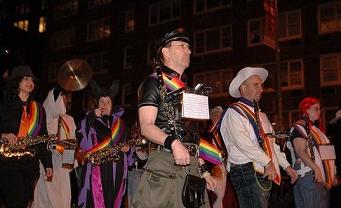 As well, the "Lesbian and Gay Band Association" will march in the inaugural parade, marking the first time in American history for a group of this nature to be officially invited to participate in a presidential procession. Members of the association took to the streets of New York City last year in celebration of Halloween festivities coupled with their annual conference entitled, "Deliciously Wicked." The group plans to participate in the notorious Southern Decadence Festival this fall, nicknamed the "Gay Mardi Gras," which in the past has been known for extreme public lewdness and indecency. President-elect Barack Obama stated: "Vice President-elect Biden and I are proud to have them join us in the parade."

Nevertheless, in the midst of the darkness that will overshadow our nation's Capitol, a light will shine. Repent America (RA), a national evangelistic association that often ministers the Gospel at homosexual events and conducts pro-life educational displays across the country, will be present at the inauguration for an evangelistic outreach, preaching repentance. RA director Michael Marcavage says that he is deeply concerned about the agenda that will be advocated at the upcoming Presidential ceremonies, as well as during Obama's term in office.

"God's Word declares that righteousness exalts a nation, but sin is a reproach to any people; yet, the incoming administration exalts unrighteousness and demonstrates their belief that sin is to be celebrated. As the Lord prepares me to preach in the open-air to the masses that will be gathering for celebration, I am grieving for our nation, which continues to rebel against Almighty God," Marcavage stated.

According to Change.gov, the official website of the president-elect, the administration lists that several of its goals, once in office, will be to: "repeal the Defense of Marriage Act" and the military's "Don't Ask, Don't Tell" policy against openly-homosexual persons being in the military; "expand adoption rights" for homosexual couples; "oppose a Constitutional ban of same-sex marriage," and "expand hate crimes statutes" at the federal level. The latter of which, if signed into law, could be used to criminalize Christians who share the Gospel with homosexuals.

President-elect Obama has also unabashedly declared himself to be a staunch supporter of Roe v. Wade, presenting a continued threat against the right to life. As a senator, Obama maintained a consistent record of flagrantly opposing legislation intending to save the life of an unborn child, such as his work with Planned Parenthood to kill the Born Alive Infant Protection Act. Obama has already vowed that one of his first legislative efforts as president will be to sign The Freedom of Choice Act (S.1173). If signed into law, the Act would repeal hundreds of federal and state restrictions on abortions, and could force physicians and hospitals to perform the procedure, or else close their practices because of their pro-life convictions.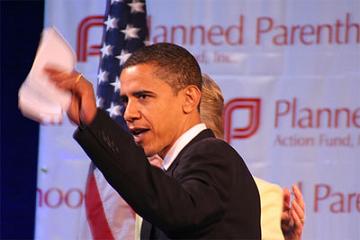 The president-elect's resolute stand against the appointment of pro-life judges to the Supreme Court bench is also of equal concern. Speaking on this issue at a Planned Parenthood gathering in 2007, he declared: "It is time for a different attitude in the White House. It is time for a different attitude in the Supreme Court. It is time to turn the page, and write a new chapter in American history." However, this "new chapter" will not be penned without the outspoken voices of those who will take a stand for righteousness.

"Although our nation continues to deviate further into darkness, as disciples of Jesus Christ, we are the light. We must shine brightly in the days ahead," exhorts Marcavage. "The incoming Obama administration must be confronted with the truth of God's Word, as we pray for all those in authority to do what is right," he concluded.

RA will begin its inauguration outreach activities in Philadelphia this Saturday, as the president-elect's Whistle Stop Tour makes its way from Pennsylvania to Washington, D.C. The ministry calls upon American citizens during this time to join them in fasting and prayer, not only for the inaugural ceremonies, but also for the future of our nation.

"Rivers of waters run down mine eyes, because they keep not Thy law." (Psalm 119:136)


###
>> E-MAIL THIS PAGE TO A FRIEND NOW!