PENNSYLVANIA SUPREME COURT RULES
'HATE CRIMES' LAW PASSED ILLEGALLY
Law used against 'Philadelphia 11' violated Pennsylvania Constitution 07/24/08
PHILADELPHIA – Former Alabama Chief Justice Roy Moore and attorneys with the Foundation for Moral Law applauded the Pennsylvania Supreme Court for its ruling yesterday in Marcavage v. Rendell affirming that the state legislature violated the Pennsylvania Constitution when it added "sexual orientation" and "gender identity" to Pennsylvania's "ethnic intimidation" law (18 Pa. C.S. § 2710) in 2002.

The Foundation, along with attorney Aaron D. Martin, represented Christian evangelists Michael Marcavage, Mark Diener, Randall and Linda Beckman, Susan Startzell, Arlene Elshinnawy, and Nancy Major, who in 2004 were arrested and charged under the "ethnic intimidation" law for evangelizing at a tax-payer funded homosexual event called "OutFest". The Christian evangelists sued and the Commonwealth Court of Pennsylvania agreed that the law was unconstitutional and struck it down. On appeal the Supreme Court of Pennsylvania, in a short per curiam order, agreed with the Commonwealth Court's opinion and the Christian evangelists' appellate brief filed by the Foundation.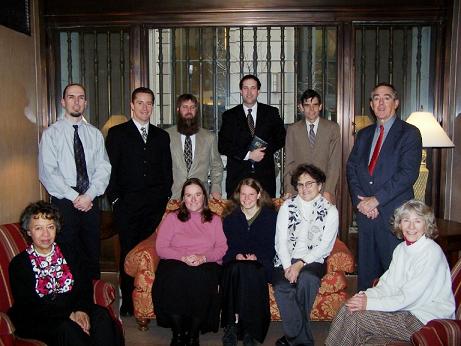 - PHILADELPHIA ELEVEN AFTER THEIR VINDICATION BY A PHILADELPHIA CRIMINAL COURT -
(Front, L-R) Arlene Elshinnawy, Susan Startzell, Lauren Murch, Nancy Major, Linda Beckman.
(Back, L-R) Gerald Fennell, Mark Diener, Dennis Green, Michael Marcavage, James Cruse, Randall Beckman
CASE OVERVIEW

On October 10, 2004, six men and five women with Repent America (RA), who became known as the Philadelphia 11, were arrested while ministering the Gospel on the public streets and sidewalks of Philadelphia at a $10,000 tax-payer funded celebration of homosexuality called "OutFest," which was organized by Philly Pride Presents, Inc.

Prior to their arrest, the Christians were confronted by a militant mob of homosexuals known as the "Pink Angels" who blew loud whistles and carried large pink signs in front of them to block their message and access to the event, while others screamed obscenities. The Philadelphia police, under the direction of Chief Inspector James Tiano, the City's "police liaison to the gay and lesbian community," refused to take any action as the Christians were continuously followed, obstructed, and harassed, even though they respectfully cooperated with police, obeying orders to move, short of being directed out of the event.

After spending 21 hours in jail, Philadelphia District Attorney Lynne Abraham's office charged them under Pennsylvania's hate crimes law called "Ethnic Intimidation," along with a host of other felony and misdemeanor charges. If convicted, the Philadelphia 11 could have faced up to 47 years in prison and $90,000 in fines each. These charges were later dismissed by Philadelphia County Court of Common Pleas Judge Pamela Dembe as being without merit. Subsequently, because they had "standing", the Philadelphia 11 Christians who live in Pennsylvania brought a legal challenge to the illegal way that the expanded "hate crimes" law called "Ethnic Intimidation" was passed.

Judge Roy Moore remarked on this historic case:


"We are very happy that the Pennsylvania Supreme Court has ruled in our favor to stop the Governor and a group of corrupt politicians from sneaking a 'hate crimes' bill through the Pennsylvania legislature. Preaching to homosexuals about the sin of sodomy should not be made a 'thought crime' in Pennsylvania or any other state."
In the appellate brief filed March 17, 2008, the Foundation and attorney Martin argued to the Pennsylvania Supreme Court that the legislature's altering of an "agricultural crop destruction" bill into an amendment to the "ethnic intimidation" law--making crimes motivated by "sexual orientation," "gender identity" and other classes subject to greater punishment (Act No. 2002-143, HB 1493)--violated, among other provisions, Article III, Section 1 of the Pennsylvania Constitution: "No law shall be passed except by bill, and no bill shall be so altered or amended, on its passage through either House, as to change its original purpose." The Commonwealth Court agreed that the "ethnic intimidation" amendment violated Section 1 and now so has the Pennsylvania Supreme Court.

Michael Marcavage, director of Repent America and a petitioner in the case, said:


"Having been arrested, jailed and charged with a 'hate crime' for preaching the Gospel, I am elated that the Pennsylvania Supreme Court upheld the lower court's ruling in striking down Pennsylvania's expanded 'hate crimes' law. The methods used by the Pennsylvania legislature in passing the 'hate crimes' bill were extremely devious and yet another chilling example as to how far politicians are willing to go to silence Christian speech that they would violate our own state Constitution to do it. In a nation that is becoming increasingly hostile toward Biblical Christianity, we remain vigilant as the Pennsylvania legislature will most likely attempt to pass another 'hate crimes' bill and are continuing to educate the American people on the significant dangers of such laws."
>> E-MAIL THIS PAGE TO A FRIEND NOW!