'HATE CRIMES' LEGISLATION ADVANCING QUICKLY
Repent America Urges Immediate Action from Christians 04/28/09
PHILADELPHIA – Repent America is urging Christians nationwide to contact their congressmen and senators in effort to defeat the passage of "The Local Law Enforcement Hate Crimes Prevention Act of 2009" (H.R. 1913), which poses a serious threat to Biblical evangelism and active stances against the sin of homosexuality. After approval of the bill this past Thursday by the House Judiciary Committee, the measure is swiftly moving to a full vote in Congress, as well as consideration before the Senate this week. Unless Christians act, H.R. 1913 could be on President Obama's desk within the next couple of weeks.

Co-written by openly homosexual congressman Barney Frank and co-sponsored by Rep. John Conyers of Michigan, the Hate Crimes Prevention Act is faulty and untruthful from its very foundation, citing in its "findings" section that "members of such groups are forced to move across state lines to escape the incidence or risk of such violence" and that they are "prevented from purchasing goods and services, obtaining or sustaining employment or participating in other commercial activity."

As well, the bill's intent to expand the government's involvement with local law enforcement to federally prosecute those who harm a homosexual actually creates an environment for a police state, criminalizing any individual whose conduct is loosely interpreted as being harmful. In addition to earmarking five million dollars for both 2010 and 2011 for grants to aid in the investigation and indictment of offenders, the bill promises hands-on federal assistance to prosecute any individual whose action "constitutes a felony under state, local or Tribal laws" or "is motivated by prejudice based on the actual or perceived sexual orientation..." Additionally, it is feared that upon facing trial, individuals may be subject to the personal bias of liberal federal judges who will pervert the law and sentence the innocent to prison, and that pastors or outspoken Christians could be charged with "inciting violence" should an individual be arrested for a "hate crime" after hearing a message decrying homosexuality.

Repent America director Michael Marcavage, who knows first-hand about the serious dangers of so-called "hate crimes" laws, states that such legislation is completely unnecessary, unconstitutional and unGodly.

"The federal 'hate crimes' bill will do nothing more than frame mischief by a law by ushering in the persecution of Christians nationwide. The bill seeks to shut down the message of hope and freedom from homosexuality through Jesus Christ by criminalizing Christians who reach out in the love of God to those trapped in its bondage," Marcavage explains. "Sadly, the overwhelming silence of the modern-day church as it pertains to homosexuality coupled with the aggressive homosexual movement has put this dangerous legislation on a fast track," Marcavage explains. "If Christians do not speak up now, soon enough, they will be doing so behind bars," Marcavage concluded.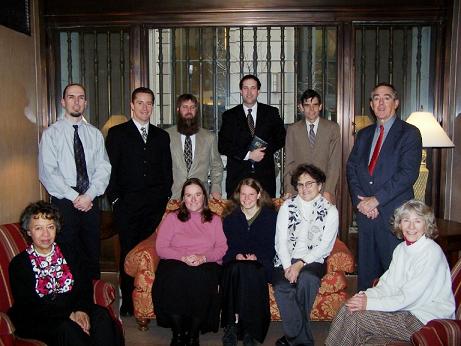 - PHILADELPHIA ELEVEN AFTER THEIR VINDICATION BY A PHILADELPHIA CRIMINAL COURT -
(Front, L-R) Arlene Elshinnawy, Susan Startzell, Lauren Murch, Nancy Major, Linda Beckman.
(Back, L-R) Gerald Fennell, Mark Diener, Dennis Green, Michael Marcavage, James Cruse, Randall Beckman



In 2004, Marcavage and 10 other individuals known as the "Philadelphia 11" made national headlines after being charged with a "hate crime" for sharing the Gospel of Jesus Christ on the public streets of Philadelphia during an annual taxpayer-funded celebration of homosexuality called "Outfest." Simply by preaching the Word of God, singing songs of praise and carrying banners with Scripture verses, the Christians were viewed by local law enforcement as being a "threat" and were subsequently arrested. At the same time, police ignored the fact that homosexual attendees were harassing the Christians by encircling them with large pink placards while blowing loud, screeching whistles.

After being jailed for 21 hours, each member of Repent America was charged under Pennsylvania's "hate crimes" law called "Ethnic intimidation". They were also charged with a host of other bogus felony and misdemeanor charges including "criminal conspiracy" and "possession of an instrument of crime," and each faced a possible sentence of up to 47 years in prison along with a $90,000 fine. Thankfully, after months of the looming "criminal" charges, Repent America was vindicated of all counts.

Following this shocking incident, Repent America succeeded in its legal challenge and had the so-called "hate crimes" legislation in Pennsylvania struck down in 2008 as being unconstitutional. Although not based on the merits of the law, both the Commonwealth Court of Pennsylvania and the Pennsylvania Supreme Court agreed that legislators violated the state constitution by altering an agricultural crop destruction bill into a bill protecting people based on "gender identity" and "sexual orientation," which was used in charging the Philadelphia 11.

TAKE ACTION: It is extremely important that a massive outcry arises from Christians nationwide in disapproval of H.R. 1913. Please call the Capitol Hill switchboard today at (202) 224-3121 and urge your congressmen and senators to vote NO on the Hate Crimes Prevention Act.

"He that justifies the wicked, and he that condemns the just, even they both are abomination to the Lord." (Proverbs 17:15)



###

>> E-MAIL THIS PAGE TO A FRIEND NOW!